Websites are essential for businesses to increase their sales and brand awareness. In 2023, web development requires a responsive design with excellent optimization skills that can create an extraordinary user experience—also, creative thinking and a customer-centric approach by web developers who bring ultimate business success.
When it comes to web and mobile app development with excellent digital marketing services, Stalwart Info has skilled IT professionals who consistently deliver top-notch IT solutions to clients from startup ventures to Fortune companies. This article offers complete information about this company that provides the most reliable and result-oriented solutions.
The Stalwart Info is On A Roll
Stalwart Info is a leading IT company specializing in web development, mobile app development, and digital marketing. They offer various other services, including blockchain development, custom software development, web app development, and graphic design.
The company was founded in 2019 with headquarters in Ahmedabad, Gujarat, India. They possess highly experienced .Net Fullstack and Salesforce developers. Stalwart is an award-winning firm in web/mobile app development.

Their incredible team follows the agile and collaborative approach, which allows them to develop customized IT solutions for overcoming various business challenges. The team has developed many successful mobile apps, games, and websites for their diverse clients worldwide.
Moreover, they helped small and medium to large companies and startup businesses with a proof-of-concept for production-ready products, including web, mobile, and cloud-based applications. Their expertise in cutting-edge technology-based web applications, B2B and B2C eCommerce development, API development, Native app development, AI/ML, UI/UX, staff augmentation, hybrid app development, Chatbot development, DevOps, and SaaS app development.
Let's look at the industries and services that Stalwart serves;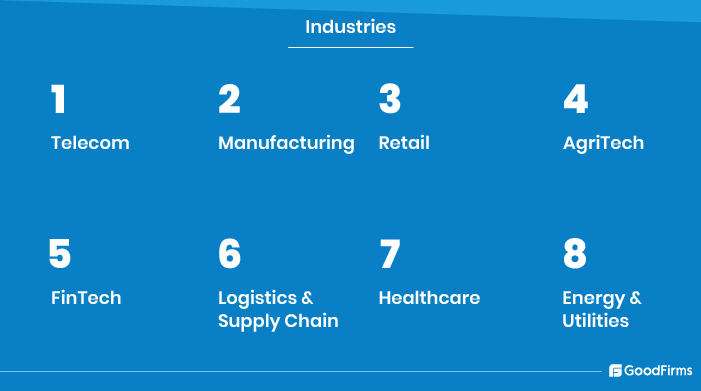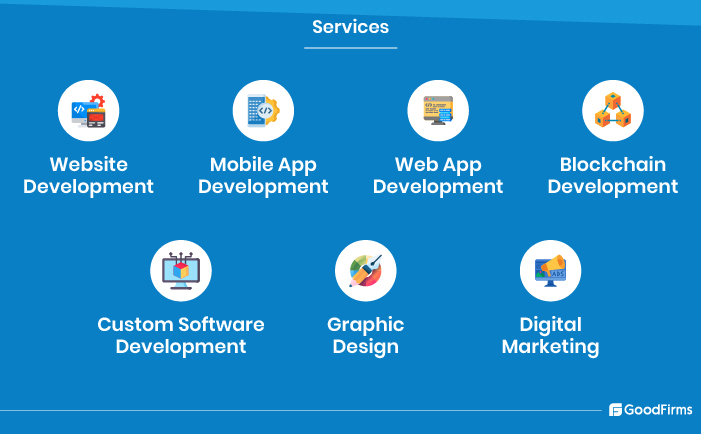 Website Development
Stalwart Info provides reliable and robust web development to various clients in Gujarat, India, and all over the world. They are a well-known web development company focusing on creativity, innovation, and secure technology implementation that exceeds client expectations.
Mobile App Development
The company uses advanced technologies and robust frameworks to develop efficient and effective mobile applications. They turn ideas into reality by offering full-cycle app development for Native android and iOS applications that provide exceptional mobile experiences.
Web App Development
Today, businesses require adaptable and versatile technology-based solutions. Stalwart comprehends client's business requirements and develops customized web applications that help increase productivity and ROI.
Blockchain Development
Stalwart provides the most secure and robust blockchain development with a solid commitment to trustworthiness, flexibility, clarity, and efficiency. The company's prime priority is to provide complete security solutions such as making safe and secure transactions of clients' data.
Custom Software Development
Stalwart's dedicated custom software development team helps clients with cost-effective and the most suitable software solutions. They believe in a customer-centric approach by providing complete assistance at every project stage.
Graphic Design
The company's graphic designing team creates visual computerization frameworks and provides faster delivery with sophistication and professionalism. The team has expertise in creating logos, prints, brand identity designs, etc.
Digital Marketing
Digitalization is an integral part of every business today, and the requirements of online audiences are constantly changing. It is challenging for marketers to provide ROI-driven marketing solutions, and that's why Stalwart's digital marketing experts continuously improve their skills and knowledge to provide cost-effective and productive solutions.
Stalwart's Partners


The company's exceptional web development work helped it achieve a prominent position in the list of top web development companies in Ahmedabad by GoodFirms.
The below-mentioned client reviews prove that Stalwart Info is a reliable IT partner by providing excellent solutions and customer support.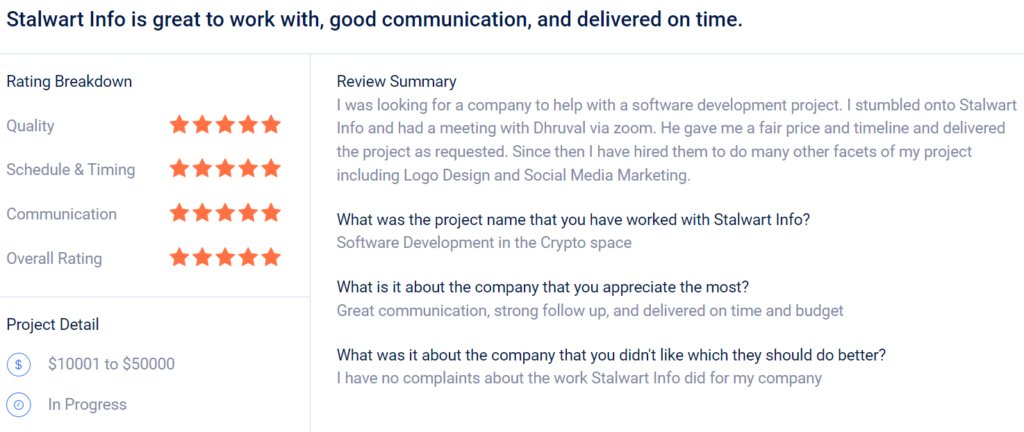 Why Does GoodFirms Mention Stalwart Info As Ahmedabad's Most Reliable and Professional Web Solutions Provider?
Stalwart is a one-stop destination for all IT-related solutions. They have expertise in web, mobile, and custom software development and digital marketing. Their developers focus on the overall digital experience by collaborating with each of their clients and helping them to achieve their business goals and objectives.
The company possesses diverse categories of IT professionals, from Net Fullstack developers and Salesforce developers to search engine optimization and social media marketing experts who are committed to delivering unmatched client satisfaction that distinguishes them from their competitors.
Stalwart's mission is to provide futuristic digital solutions by utilizing cutting-edge technologies and innovative approaches to produce exceptional results for its clients on a global scale. The company's dedicated development team offers business flexibility, effective communication, excellent time management, and productivity.

Conclusion
The IT industry is proliferating with constantly changing business requirements that increase demand for more skilled web developers and digital marketing professionals who work together to produce desired results that satisfy clients. Stalwart Info is committed to delivering such requirements and exceeding their expectations.
About GoodFirms
GoodFirms is a trusted B2B research, review, and listing platform helping businesses accelerate their digital journey and maximize modern technology's value. The company connects service providers with service seekers through a comprehensive and thoroughly researched fact-based list of the best services and solutions. Recognized as the most reliable source for the B2B market, GoodFirms has world-class experience with partners across the globe.